DIY Home Filing System in a Blanket Chest or Trunk
Turn a blanket chest or trunk into a home filing system complete with color-coded files to maximize your organization.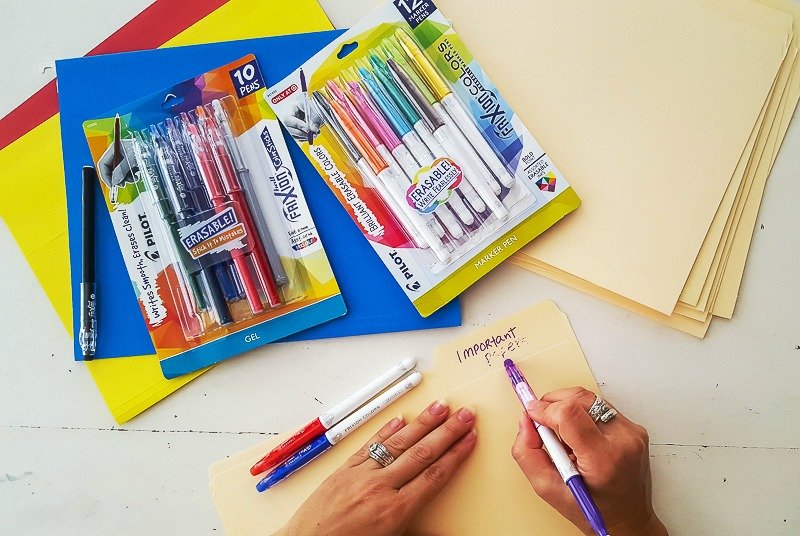 Updated 01/2023
Get Organized
I love an organized home and today I'm sharing a super simple way to organize your home files, as well as a DIY filing cabinet system that is as beautiful as it is functional!
A cluttered house is a cluttered mind! I'm one happy mama when everything is put in its place! While I don't like to deal with messy piles and stacks of paper, a couple days work leads to infinite rewards!
Earlier this week I shared a
cedar chest makeover
with a bold and colorful outside. Today it's all about the
inside
of that blanket chest! I'm going to show you how Mr DIY and I retrofit a blanket chest to serve as an organized filing system that looks beautiful in any room of our home!
File System That Works
Before I share that tutorial, I'm excited to show you how I dealt with the actual paperwork. I'm a visual person, and any way I can make my life easier pays off in the long run!
I was shopping at Target for file necessities and found these
FriXion Erasable ColorSticks
and
FriXon Erasable Colors Marker Pens
!
Y'all, did you read that...they're erasable
! They contain a unique thermo-sensitive gel ink formula that disappears with erasing friction. I knew they would be perfect for labeling my files and I couldn't wait to try them out!
FYI, I found large packs in the office aisle and smaller packs in the back-to-school section of the store.
I'm a bit of a perfectionist and often need a couple do-overs! That goes for my handwriting as well. Being able to easily erase my mistakes over and over, without damaging my files, was incredibly freeing and totally took the stress out of getting it perfect the first time!
Here's a little video so you can see these erasable pens in action.
Onto my filing system. I purchased a
set of colored hanging folders
. Then I organized my paperwork into categories: Banking, Investments, Personal, Health, Home, Auto, Insurance. These were the categories that made sense for our family...yours will probably be slightly different!
I used the
FriXion Erasable Markers
to write the sub-categories on file folders in a
matching marker color.
This system is going to make it extremely easy to find and file paperwork! If it doesn't match, it doesn't belong there!
I love how it all came together!
Trunk turned home filing system
Our beautifully organized files were ready for their new home...the painted cedar blanket chest. Mr DIY was the brains behind figuring out how to transform this chest/trunk into a usable file cabinet!

The issue: the trunk was too narrow to hold a normal filing system.

Our solution: multiple hanging systems going across the width of the trunk. This actually is a much easier way to file; no more cricks in my neck!

Here's how we accomplished this trunk to filing cabinet makeover.


SUPPLIES USED
Mr DIY nailed the square dowels into the cedar trunk, basically creating a 3-sided box on each end.
Additional dowels were nailed into the front and back of the trunk, giving us 3 equal filing spaces so we have lots of room to grow!
The PVC rails slide on top of the horizontal dowels, creating a spot to hang the files from.
We made sure to leave enough space so the files aren't dragging on the bottom of the cedar chest, but hanging freely.
This color coded filing system is going to make it so easy to stay organized! For the first time in my life, I'm not dreading the chore of filing our paperwork! And if I ever choose to change the labels, it's a simple matter of erasing and rewriting!
This color coded filing system is an easy way to take control of all the paperwork that every home has to deal with! No more wondering where an important document is...no more piles of
"to be filed"
paperwork hanging around the house!
You can free the mess in your home and take control of your home files!
PIN to Save
Sharing and pinning my images is a great way to support my site, thank you ❤
bringing beauty to the ordinary,
Disclosure: I was compensated by Collective Bias for this post,
but all opinions are my own.